Above the Fold: Supply Chain Logistics News (October 30, 2020)
The bikes have been taken out of the garage and put in the basement to make room for my car.This can only mean one thing: it's the first snowfall of the year.
Tomorrow is Halloween. Or has it been Halloween all year?
We "fall back" an hour on Sunday. We have an election on Tuesday.
I'm here, cracking an egg, it's not a perfect circle,our orbit around the sun.
—
In this week's supply chain and logistics news:
Not Surprising: The High Cost of Free Shipping
As reported by Lisa Ward at the Wall Street Journal, a paper published in May by the Journal of Marketing Research "analyzed purchases made from a single large European retailer and found that free shipping did incentivize customers to buy more. But it also increased purchases of items that historically have higher return rates, such as clothing or products from lesser-known brands. Thus, returns also increased as a result of the promotions, to the point where profits were erased."
This research basically confirms what should be obvious to all: Nothing in life is free.
As I wrote back in August, free shipping keeps getting more expensive, and we will all pay for it, one way or another.
For related commentary, please read Free Shipping Is Costing More (As Small Packages Flood Delivery Networks) and Product Returns: The Hangover Headache Of E-Commerce and Amazon Prime Free 1-Day Delivery: Do We Really Need It?
Sit and Wait: Container Dwell Times
It's not just truck drivers being detained at shipping and receiving facilities. Containers are also waiting around at ports. "Container dwell time at the Ports of Los Angeles and Long Beach has increased, following the current cargo surge," reports the Pacific Merchant Shipping Association (PMSA). Here's more from the press release:
Containers remained an average of 4.3 days upon arrival to their respective terminals during the month of September. This is the second highest dwell time average in any month since PMSA began tracking this data in 2016.
"Warehouses have reached capacity, creating a backup at marine terminals. BCOs usually have four days to pick up their cargo before demurrage fees are applied and while it seems they are taking advantage of that free storage time, the number of containers that exceeded a five day stay also increased," explained Jessica Alvarenga, Manager of Government Affairs at [PMSA]. "21.2% of containers at San Pedro Bay ports exceeded a five day stay – the largest amount of containers to remain this long since PMSA began tracking this data," according to Alvarenga.
And here's a chart from the press release: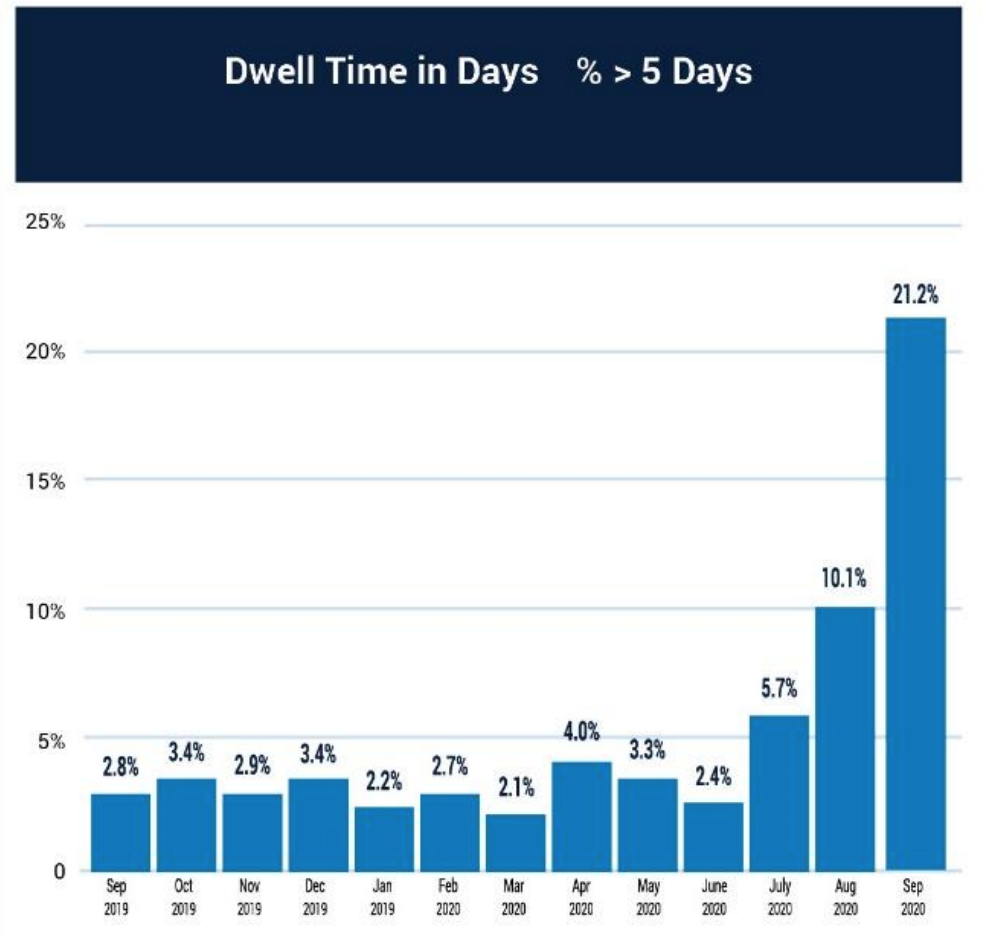 Source: Pacific Merchant Shipping Association
This is just a reminder that supply networks are interconnected systems, with ever-changing constraints and bottlenecks.
Technology News: Cloud Logistics and Blume Global
Back in August, I wrote how transportation management systems (TMS) have never been more popular — not among shippers, but among other technology vendors and logistics service providers.
Well, yet another TMS-digital freight partnership was announced this week. Cloud Logistics by E2open (Cloud Logistics) and Uber Freight announced a partnership "on a direct Application Programming Interface (API) integration for seamless access to digital freight brokerage rates and capacity when planning or executing shipments."
This is at least the fifth TMS partnership Uber Freight has announced over the past 18 months, following announced partnerships/integrations with BluJay Solutions, SAP, MercuryGate, and Oracle. Why so many partnerships? As I wrote back in August, connecting with multiple TMS solutions boosts their access to shippers and their demand for freight capacity.
In other technology news, Blume Global (a Talking Logistics sponsor) announced Blume Street Turns, "a solution to optimize drayage operations and container utilization through the use of cutting-edge machine learning algorithms." Here are some more details from the press release:
Research from the Boston Consulting Group in 2018 found that street turns — where truck drivers match outbound moves from rail ramps with inbound moves to rail ramps, rather than repositioning empty containers for pickup — for domestic intermodal carriers could save 8 to 18.8 million miles per year depending on container constraints. Blume research concluded there are similar savings when moving from and to seaports by matching import moves with export moves.
Blume Street Turns significantly improves driver and truck utilization and increases turns while reducing congestion and CO2 emissions around ports and rail ramps. Blume Street Turns matches incoming imports with outgoing exports around marine terminals and outbound with inbound moves around rail ramps. The company's rich ecosystem of ocean freight forwarders, ocean carriers, dray carriers and intermodal marketing companies (IMCs) provides an extremely large volume of outbound and inbound moves significantly increasing the opportunity for street turns.
"Street turns" is one of those "white spaces" in logistics that has generally been ignored by transportation software companies (with the exception of Matchback Systems, which launched a solution a few years ago). It is also where a lot of waste and inefficiencies exist — and where the next big constraint can emerge in this interconnected system we call supply networks.
And with that, have a happy weekend!
Song of the Week: "Ferris Wheel" by Sylvan Esso